Entertainment for children
At festivals, the whole family should be having fun. It includes children. Children learn new skills, express their creativity, and socialize when they have fun. That's why we have several activities for the little buddies. Below are four fun activities to keep the children smiling and having fun.
Face Painting
This fun art activity lets kids live out their ambitious dreams. They could get all types of art on their faces, like superhero masks, cat whiskers, and more. The kids can even do their own art if they're exceptionally creative. Face painting makes for great pictures and a fun family bonding time, no matter the design.
Aside from that, face painting as an art form produces much more immediate gratification. The children's faces can become fabulous and sparkly works of art in the span of hours or even minutes. It's an excellent activity for any age, and it especially gives a sense of wonder to kids.
Glitter Tattoos
A glitter tattoo booth is an excellent addition to any party. It's another way for children to put entertaining art on their bodies safely. Glitter tattoos are especially effective substitutes for children who feel uncomfortable putting paint directly on their faces. If treated with care, these temporary tattoos last several days and are applied with safe materials and cosmetic glitter.
Having glitter tattoos is an experience children can enjoy for more than just a day. This way, the happiness of the festival outlasts the day itself and stays fresh in their minds. It offers them immediate and long-lasting gratification, and they can get any design they love. Whether the kids love unicorns or prefer cute slimy frogs, they will enjoy their preferred design as pretty and shiny temporary tattoos. Like face painting, glitter tattoos can make for some cool and sparkly pictures.
Party Games
A party's not a party without any fun-filled and classic games, especially for the little guys. After all, who didn't love running around and playing with friends as a kid? Games are the best way to get laughs and smile from children at a party. It stimulates their mind, gets them to move, and may even bring out their competitive spirit. The children can also improve their teamwork, coordination, competitiveness, and sportsmanship.
Moreover, party games create great childhood memories. Mainly, they can entertain everyone and not just the kids. They can be musical chairs, piñata breaking, a treasure hunt, or a sack race. For sure, they can make everyone bound to have fun. While the children run around and get their hands dirty, the adults can cheer them on and have fun on the sidelines. It's indeed a great bonding time for everyone.
Karaoke for Kids
Kids love to express themselves in any way possible, and that includes singing. It's a great way to let kids enjoy themselves and express their emotions. Aside from that, it also helps increase the speed at which children read while at the same time burning off their energy. Pronunciation and reading are two excellent skills. These can be improved when it comes to karaoke for kids.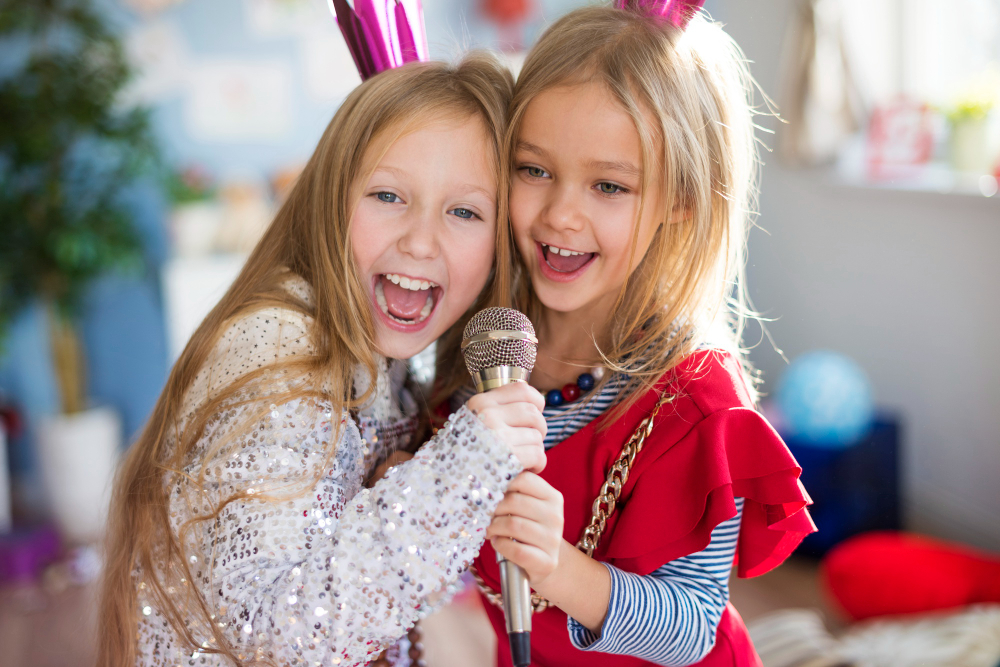 Watching children sing their hearts out can be entertaining for everyone. It will undoubtedly bring up the mood of the whole festival. Indeed, it's a perfect tool for livening up the atmosphere. Also, it helps incorporate something new into the children's activities. Adding a bit more music and a little more energy to children's activities is never a failure. Suppose there are any children who do happen to shy away from the spotlight. In that case, they can still enjoy the fun music, and energy karaoke brings.